Pure Home Craft
Regien Kos
I am an artist and crafter. My inspiration is taken almost exclusively from nature, folklore and a fairy world. I love to make tiny things by hand, but I also use my sewing machine from 1928.
I design and make folk dolls, animals, gnomes and paint mushrooms and plants at wooden bodies. I like to craft with pure materials. Some of my fabrics are dyed by me, using plants only. My work is made slow, with care and love.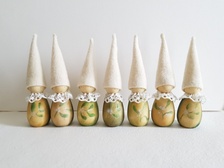 For me it is a gift to create. Making and painting have always been the centre of my world. Most of my recent paintings are made with natural pigment water colours and ink and printed as postcards.
My creations, postcards, eBooks and original paintings are available at:
www.etsy.com/shop/PureHomeCraft
You can find my work and lots of my free patterns at: www.instagram.com/purehomecraft
Contact
Email: